Special Offers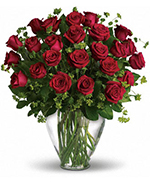 $

189.95
When it comes to romance, the red rose rules! And when it comes to delivering romance in a big way, two dozen gorgeous red roses are a brilliant choice. Twenty-four stunning red roses are arranged with greenery and delivered in a feminine vase. [...]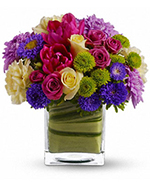 $

74.95
Oh, what a fine day it will be when you have this delightful spring bouquet delivered to someone special. Everyone will delight in the vibrant colors and bountiful blossoms, all thoughtfully arranged in a beautiful leaf-lined vase. Light yellow roses, hot pink spray roses, tulips and gerberas, yello [...]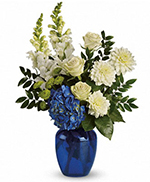 $

79.95
Sending this brilliant blue and white bouquet will surely garner oceans of appreciation from whoever receives it. Dazzling blue hydrangea, green roses and button spray chrysanthemums, divine white dahlias and snapdragons plus huckleberry arrive in a striking cobalt vase. [...]
Some of the best scents are derived from flowers – lavender, rose, and chamomile are some of the best examples of this. From perfumes to scented candles, these flower-derived fragrances are everyone's favorite. These floral fragrances are also widely used in aromatherapy. Imagine if the derived scents are so pleasant, how pleasant the actual flowers will smell?
If you want to get some of the most sweet-smelling flowers for your home in Greenville or to give someone as a gift, you've come to the right place. Below is a list of the most sweet-smelling flowers ever!
Recent Products
Peonies
Peonies aren't just gorgeous in looks but absolutely amazing in smell. While all Peonies smell great, Peonies with a large, round white-colored flower are the most sweet-smelling of all. Their scent is nothing short of delicious! You'll know instantly when there's a Peony around!
Roses
Do Roses need any description? We don't think so! Considered one of the most popular flowers worldwide, people love Roses not just because they're beautiful and come in a massive variety of colors, but because they also smell divine. They can uplift your mood in an instant. They make the best flowers to take along when you're visiting your loved ones or decorate them in a vase in your living area or bedroom when you want the atmosphere to smell nice and welcoming.
Lilies
It won't be an exaggeration to say that the scent of Lilies is intoxicating. It's an absolute stunner. Lilies make a bold statement not just by their beautiful appearance but with their bold yet overwhelmingly pleasant fragrance. A fresh bunch of Lilies in your living room will make the perfect ambiance for an intimate dinner. Being one of the sweetest smelling flowers, Lilies also make for excellent gifts.
Lavender
The list of the most sweet-smelling flowers can't be complete without the mention of Lavenders. The fragrance of lavender is extraordinarily soothing and calming. No wonder its fragrance is so widely used in aromatherapy and spas. Their calming fragrance makes them a great flower choice for bedrooms and gifts.
Lilacs
Another flower on the list of most sweet-smelling flowers is Lilac. Not only are Lilacs a treat to the eyes, but their fragrance is a treat to the nose as well. Everyone loves the sweet and soft smell of the Lilacs. They're a popular flower choice for intimate gatherings for their aesthetics and beautiful scent. If you can't think of a housewarming gift for someone very dear to you, you can't go wrong with a bouquet of Lilacs!
Jasmine
Did you really think we won't count Jasmine on our list of the sweetest-smelling flowers? We absolutely love Jasmines for their pretty, small flowers and for their sweet smell. If you like your house to smell nice all the time, place a pot of Jasmine by the window and let it do its fragrant magic!
If you want the finest quality flowers in Greenville, we have all you need, choose from a variety of sweet-smelling flowers!